The Listening Post Collective unveiled its 2021-2023 strategic framework in August 2021 and shared the following remarks at the 2021 Annual Journalism Funders Gathering organized by the Media Impact Funders. LPC edited them to reflect their priorities as of August 2022, as it launched its new civic media playbook and website. 
Aren't we all listening to Beyonce's Summer Renaissance? Maybe Lizzo's It's About Damn Time is your summer jam.  At the Listening Post Collective (LPC) virtual office, these anthems have helped fuel the many hours we've put into the launch of our new website and digital learning platform.  If you aren't already familiar with our work, let me give you the cliff notes:  
The Listening Post Collective is a project of Internews, an international organization that supports independent media in 100 countries to provide people with quality, local information that saves lives, improves livelihoods, and upholds democracy. 
Working with Internews, we've learned that the challenges of providing vital news access to remote communities in South Sudan or developing media literacy campaigns to fight misinformation in Latin America aren't very different from the challenges we face in Fresno, California, Phoenix, Arizona, or New Orleans, Louisiana. 
Successful information and media solutions must be rooted in local culture, values, and capacities. 
This understanding is why my colleague, Jesse Hardman, launched the LPC in 2013. He wanted to bring Internews' international approach to community listening to the U.S. Since then, the Listening Post Collective has conducted dozens of Information Needs Assessments in communities across the country and provided seed funding to groups with solutions to address those information needs.
For example, this helped launch NOISE, a Black and POC-centric news initiative in Omaha. In Oakland, this helped launch El Tímpano, a two-way reporting platform that engages local Latino immigrants with information about immigration, housing, health, education, and more. In Fresno, this helped launch uSpark, a digital platform that serves Latinx, Black Millennial, and Gen Z residents with information on public health, policing, employment and government.
Our assessments have helped community leaders, journalists, and independent media organizations understand their communities' information needs more profoundly and represent the expressed needs of their communities. As a result of this deep listening and investments, we have become very clear-eyed about the following: 
Media access is a public health issue 
Media access is a workforce development issue 
Media access is a social justice issue  
Media access is a democracy issue 
The Listening Post Collective wants to build a future where civic power is strengthened by equitable, civic media and we work with people and organizations to develop local news and information solutions that help communities thrive.  We're guided by principles that we all can share:
Listening is our greatest tool
Trust is earned 
Cultivating Local Power is essential 
Being adaptable and responsive strengthens collaboration 
Equitable Media requires culturally relevant solutions and transformative investments 
We've also developed language for our work that frames our efforts. For example, while the term "news desert" has become the a rallying cry to lament the loss of media institutions around the US, we prefer to talk about "news gardens" and put the focus on supporting homegrown ideas and existing information networks in any given community.  You can read more about our strategic framework and glossary here.  
In 2020, The Ford Foundation released a report called Investing in Equitable News and Media Projects. They documented how equitable media founders face several barriers when seeking early-stage support, including bias, lack of networks, and lack of early technical and business mentoring. 
We've seen that need first-hand, and it's why we've committed ourselves to investing our time, talent, and resources to help the partners we work with on some of these early-stage challenges. Still, we need the funder community to increase its early-stage and long-term investments in support of civic media leaders like Sergio Cortes.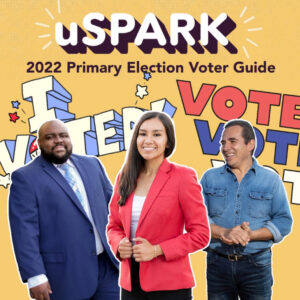 Sergio is one of our partners in Fresno, California, and leads uSpark, a platform that serves young, Latino, Black, and Gen Z audiences. In the Central Valley, residents are mostly 18-35-year-olds and are the largest voting group in Fresno County, with over 172k registered voters. Still, only around 10% of them voted in the 2020 election.  Will that ever change?  As it turns out, uSpark has the power to move the needle on civic engagement.  
When we engaged a consultant to measure the impact that uSpark has had on its community, we learned its readers enthusiastically like, trust, access, and use uSpark's reporting. In focus groups, community members shared that uSpark informs them and provides clear information on how to be involved in local government. For example, 5 of 7 participants mentioned attending a city council meeting or zoom session because of uSpark. Just imagine the domino effect of civic participation that this could lead to in the Central Valley.  
And yet, as much as there is to celebrate, we still have to worry about whether Sergio can continue doing this vital work because the demands of building a civic media project are at odds with his need to pay his bills.      
We believe that the people who are doing the most critical work in vulnerable communities throughout the U.S. have the least access to transformative investments.  Talk to any one of our partners and they will tell you how an investment in their vision could help their communities will be better informed and more civically engaged. 
While we believe it is essential that we test new revenue models built on community support, we should also ask ourselves, what's the business plan for democracy? Where's the humanitarian aid to combat the vacuum media consolidation left us to fill? Where is the big-funding energy for small news and information startups in communities historically excluded from mainstream media?  
We recognize that there isn't one tool, process, or approach to building news and information solutions for communities. And there isn't one funding mechanism or strategy that will transform our local media landscape overnight.  
And so, we call upon the funder and philanthropic community to consider the following: 
Fund projects rooted in a community's information needs.

 

Fund equitable media leaders. Period. 

Fund for the long game, and recognize that investments in media are also investments in public health, workforce development, social justice, democracy.

 
There's a lot to celebrate these days with the growing impact of peer organizations like City Bureau, Institute for Non-Profit News (INN), the Pivot Fund, and LION publishers. We consider ourselves a part of this collective movement of listening and supporting those who need it most. As part of our 'granito de arena' (grain of sand), we have just launched a free, self-paced digital learning platform where anyone can take advantage of the Listening Post Collective's Playbook: A startup course in civic media playbook and apply for micro-grants to help strengthen or launch their news and information projects. Our vision is to work with partners throughout the country to incentivize the launch of new civic media projects that will inspire communities to build the power needed to strengthen our democracy.
It's about damn time we all heeded the call for a civic media renaissance. So let's all put that on repeat.