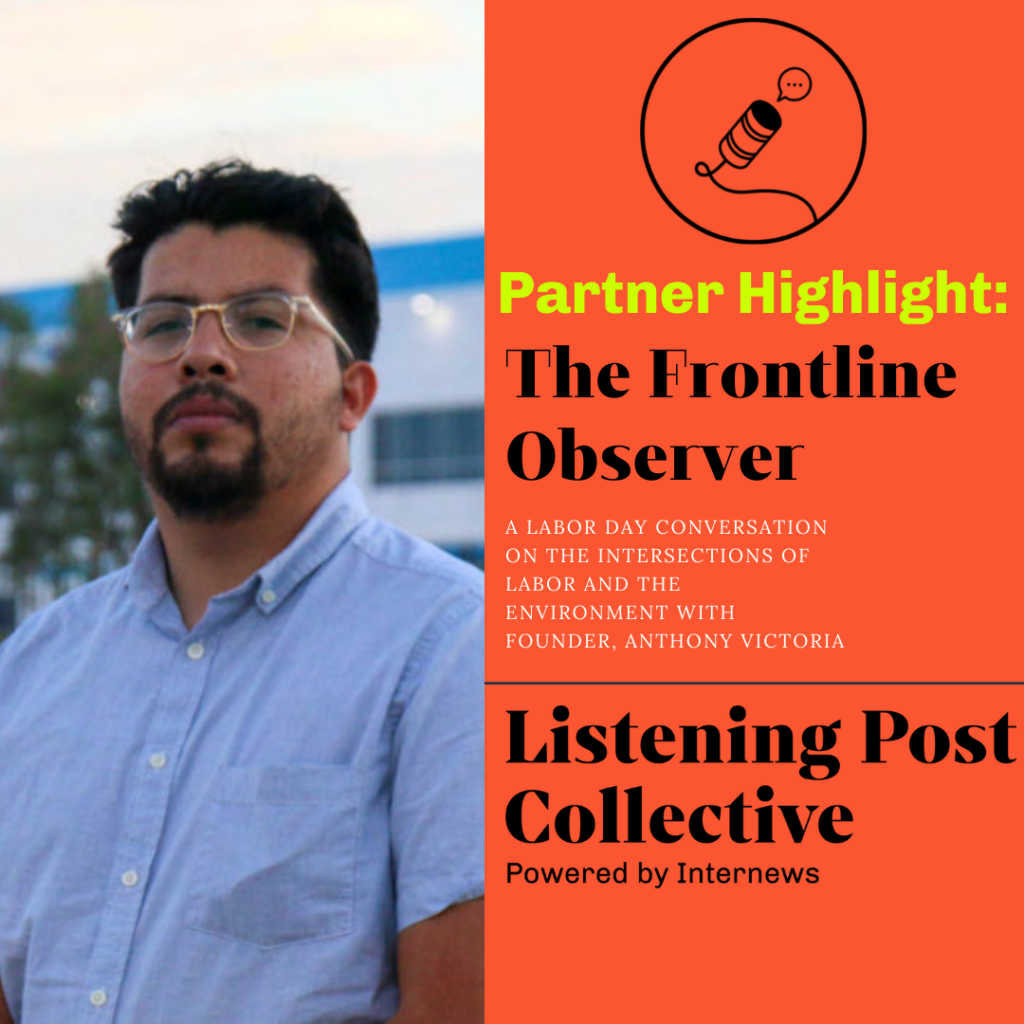 Observed the first Monday in September, Labor Day is an annual celebration of the social and economic achievements of American workers. The holiday is rooted in the late nineteenth century, when labor activists pushed for a federal holiday to recognize the many contributions workers have made to America's strength, prosperity, and well-being. – Department of Labor 
At the Listening Post Collective, we are fortunate to work with civic media partners committed to reporting on their community's most pressing issues. Partners like Anthony Victoria, Founder of the Frontline Observer. In honor of Labor Day, we talked to Anthony about the vital work he is doing to highlight environmental issues in Riverside and San Bernardino, California.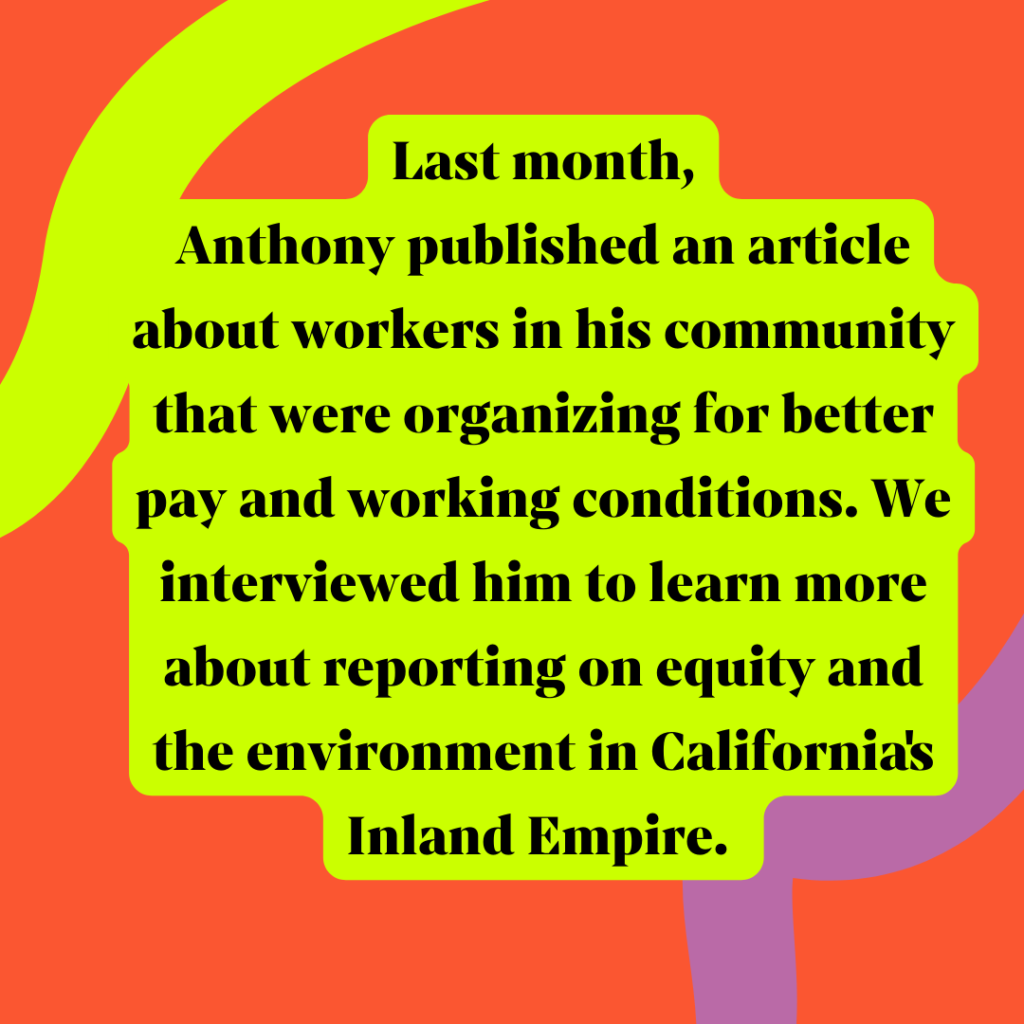 LPC:  Tell us who you are and why you launched Frontline Observer…
AV: I consider myself a community journalist and for that reason I created The Frontline Observer. My goal with The Frontline Observer is to provide an outlet for people in our community to report on some of the most important issues that are taking place in relation to our environment and our quality of life. More importantly, I want this media outlet to be a place of opportunity for young people that want to pursue careers and opportunities in communications and journalism. There's vast potential for in-depth reporting and creative storytelling here in the Inland Empire and I want to help cultivate that through Frontline Observer. 
LPC: What type of intersectionality do you see between the labor beat and environmental beat?
AV: In our area, there are a lot of connections between labor and our lived environment. For example, many people who work at a warehouse or who drive trucks for the logistics industry or service industry more than likely live in a working class community where health disparities may exist or where air quality is poor. 
So when reporting on issues related to freight or e-commerce you see these connections. You'll speak to an Amazon worker who may have a work grievance that might also have asthma. There may be a former truck driver who now has cancer. Or a parent who works two warehouse jobs to pay for medical bills of children who have asthma These are all stories that you come across when talking to members of my community. 
LPC:  Why is there a need for this type of reporting in the Inland Empire?
AV:  I think there's a desire for more news stories that dig deep into the labor, health and environmental issues affecting us, especially stories that explain how we go this point, who key people or entities are and why there's a desire for something better.  In recent times, the Inland Empire has received great attention from national and global news outlets. While people are clearly tuned in to these legacy platforms, I think people want to see independent and local journalism that provides a challenge to the status quo. 
LPC:  One of the stories you reported on recently was how Amazon Air Regional Hub workers organized a walkout to demand increases in pay and improved working conditions. What can you tell us about the people at the frontline of this story?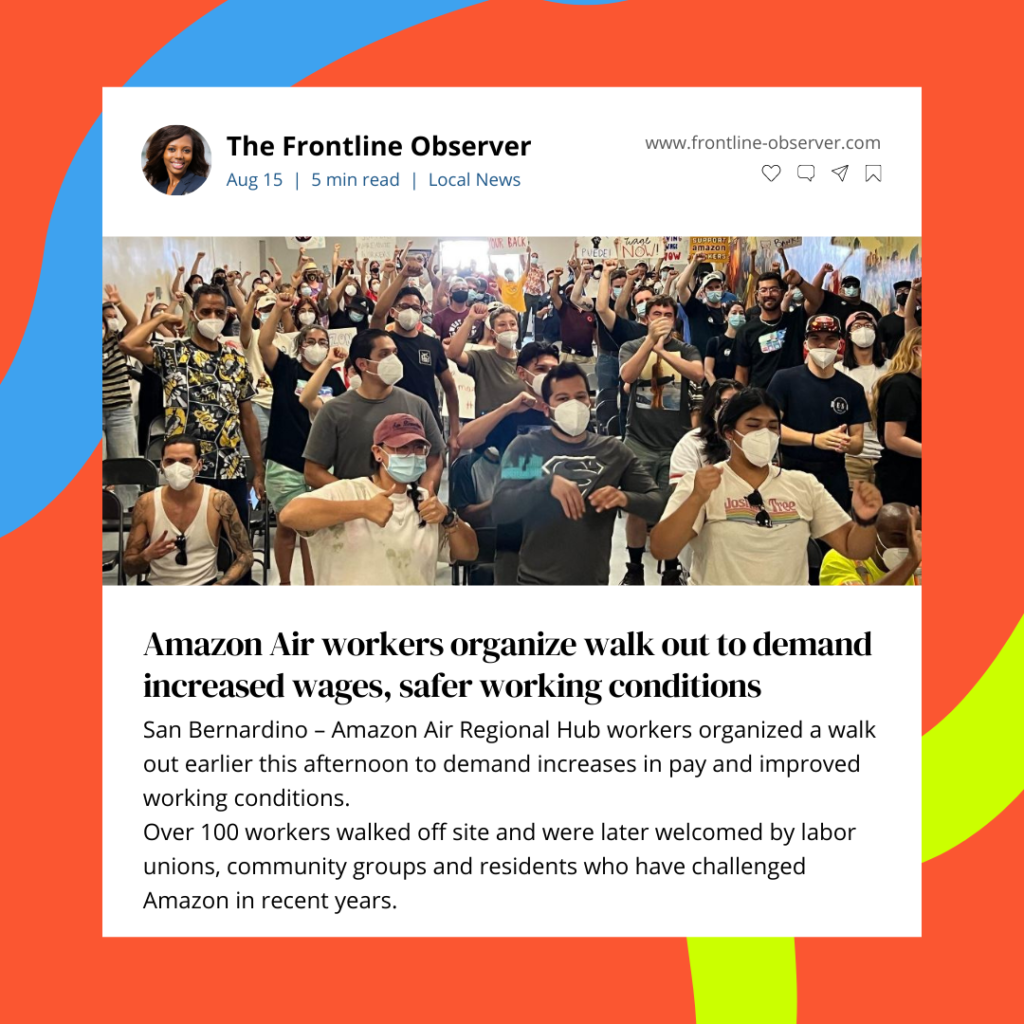 AV:  What I can tell you is that these people are clearly motivated to make a change in their workplace. As mentioned earlier, these workers are people who live here and grown up here. They have shared with myself and other journalists that they will organize until every worker at Amazon Air receives better wages and working conditions.
Follow the Frontline Observer on Instagram or sign-up for their newsletter at Frontline Observer.