The Listening Post Collective's latest deep dive into community information needs took us to suburban Philadelphia, where a growing Latinx population has been largely left to its own devices to find key local information in Spanish. Montgomery County, Pennsylvania, around a half-hour northwest of Philly is home to cities like Norristown, where Latinx residents now make up closer to 40% of the population, and within decades will make up the majority of public school students in the area. In fact, immigrants in the US have been gravitating towards suburban communities like Montgomery County for a while where they can find affordable housing and support growing businesses. 
We spent eight months listening to community members, partnering with local orgs, interviewing local stakeholders, and surveying Latinx residents about local community information wants and needs. Here are some of the key takeaways from what we heard and learned in Montgomery County:
Multi-channel and offline content are needed. Most Latinx/Latino residents currently living in Montgomery Coun­ty need information in Spanish, and many of them need it not just in digital formats but also via print, like flyers and posters, and via in-person forums. While the exponential growth of young, digitally native, bilingual Latinx/Lati­no residents may shift this need over time, many in the older generation, as well as newcomers, still need vital in­formation in Spanish and offline.

Local matters. Latinx/Latino residents are not satisfied relying on nearby Philadelphia-based media to meet their information needs. Community members want to develop their own bilingual channels to document what's happening, share important local news, and create wholistic narratives that can uplift residents and build civic power.

Effective communication relies on trust. Language barriers, concerns around immigration status, and mixed experiences with local service provid­ers affect the willingness of the Lat­inx/Latino community to engage with various sourc­es of information and information providers. And, while the community relies heavily on Facebook, they can also be victims of and are wary of mis­information and disinformation in that space.

It's not just about translation. Some county and city agencies, including police departments, hospitals, and schools, have increased their Span­ish-language services over the past decade, although many still rely on translation services via phone to fill in the gaps, or don't provide informa­tion in Spanish at all. Part of the ongo­ing need, however, is not just Spanish language services, but having trust­ed Latinx/Latino community members included in these professional spac­es. 

Community-led organizations hold key connections. Local service organiza­tions often fill this information void and are experienced in creating trust and collaborating with the community to provide and co-create a diverse ar­ray of needed in-person services.
As part of our research we looked at key community information questions including: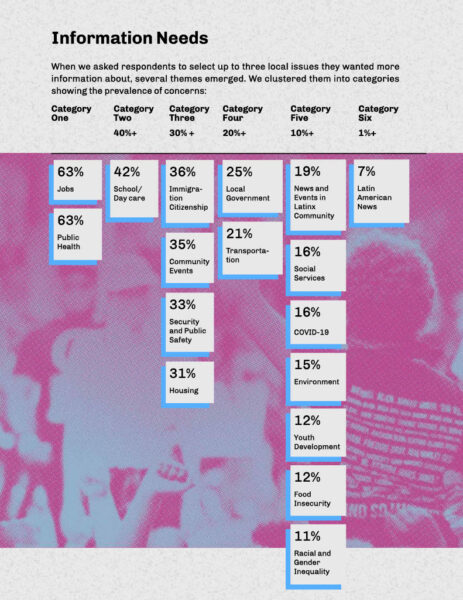 In this assessment we prioritized analyzing the following questions:
What are the community's information needs? (information that will help them fully participate in civic life)
How are they currently accessing information? (with analysis on the quality of info/strengths and weaknesses)
What are the best ways of delivering information? (with analysis on how community/or existing media can fill gaps/opportunities)
Lastly, click on our local partner HealthSpark Foundation's post about our work. We're so grateful to them and the Independence Public Media Foundation's for their financial support.  
Stay tuned for how we build on this assessment in Pennsylvania. 
---