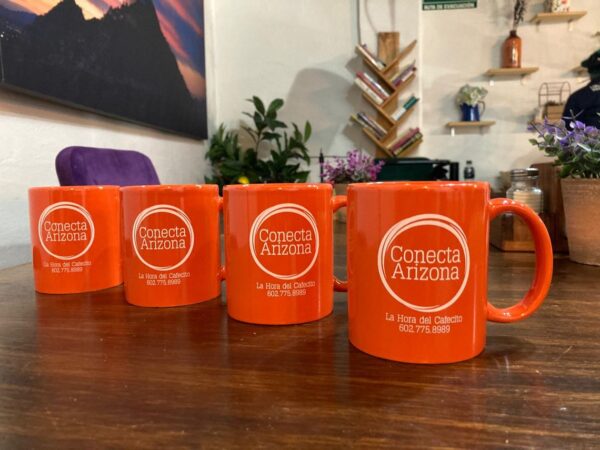 Martiza Félix is an award winning bilingual reporter who's been doing journalism for more than two decades both in her native Sonora, Mexico and later in Arizona, where she lives now with her family. In the spring of 2020, as Covid began to take form, Maritza realized one of her communities, Spanish language news consumers in Phoenix, were facing a cycle of too much misinformation and not enough useful information  about the pandemic. She took it upon herself to respond, creating Conecta Arizona as a way to get sourced information in Spanish to a community that sorely needed it, in a space and format that felt culturally comfortable and relevant. Maritza's also an original member of the Listening Post Collective partnerships program, and we're so glad to get to learn from her. She spoke with LPC founder Jesse Hardman about her journey launching and growing Conecta Arizona. 
You and I met during the very first couple of months of COVID when you were beginning to imagine Conecta Arizona and I remember my first phone call with you because I was on parental leave with my daughter and we were walking around Los Angeles for an hour. You were talking about your idea and I just loved it so much. What do you remember about that time in your life?
I remember that I was working on a documentary, and COVID hit, and everything was canceled or postponed. My whole year as an independent journalist was planned around that documentary. Who's gonna pay my mortgage and my bills and everything? Meanwhile, I am getting all these WhatsApp messages from my mom about Covid. She really wanted to come visit from Mexico but border restrictions were starting to go into effect. How she was using WhatsApp to share public health info with me, that's where the idea for Conecta Arizona came from. That's how we started, with a very, very small Whatsapp group. 
Your origin story is a good reminder of how little you need to actually launch a community information service.  Sustaining it is different as we're finding out, but launching it and understanding how to make an effective project for your community doesn't necessitate a lot of money, right?
The Listening Post Collective gave me a small grant to get started, something like $2,000. I used that money to buy a phone, establish a project phone number, and a WhatsApp account. And I paid myself a little bit. But you don't need much.  I think the quality of the idea, and being creative with your resources, time and talent, are key for actually launching something that is going to be successful. More than money you need to know and listen to your community. I knew the community I was serving, because I'd spent years chasing interviews and sources on the streets of Arizona. I was part of the community I was working in.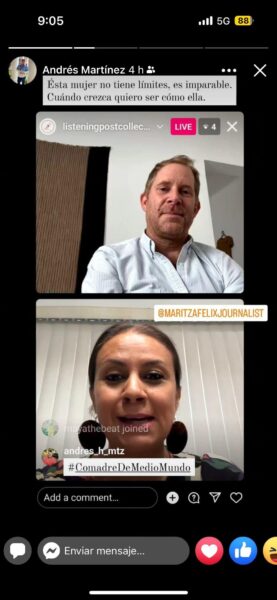 I think sometimes the assumption is if it was worth doing, existing legacy outlets would have done it. That attitude dismisses all of the things that they don't do or haven't done, or the spaces that they aren't connected with. 
Exactly. For example, the big media outlets that we have in Spanish in Arizona are Univision and Telemundo, two enormous international/national broadcasters, with less of a local lens. They look at Latinos in Arizona as an audience, not as a community. Conecta Arizona, as a local outlet, is all about making our local community stronger and better informed. Just viewing local people as an "audience" is a one-way communication strategy.  We're focused on two-way conversations, it isn't about  viewing people as clicks , or statistics for funders or advertising or sponsorship, it's actually about creating conversations that are gonna inspire new, more equitable reporting. 
Your idea of a Cafecito (daily WhatsApp bilingual news hangout) reflects your ethos of treating people who participate in Conecta Arizona as a community. Where did that idea come from? 
I think coffee is a bridge that unites us, it's where we start conversations. It's a cultural thing. We're different because we're not just using WhatsApp as a distribution platform. We understand that the heart of Conecta Arizona is on WhatsApp, it's its own thing.  We're not driving our audience anywhere else, it's a place where we can meet and we can have important conversations.
It's also about debunking misinformation and disinformation. Today there was an article all over  Spanish media about a young girl who was migrating and was sexually abused by 67 men along her journey. But there is no data to actually backup that story. So in our Cafecito we shared the different stories people saw, and began scrutinizing the information. We're creating this community not just to inform them, but also to learn together how media works. To learn the editorial process behind journalism and to learn when there is no good information out there. It's really easy to fall for headlines that are powerful, but not necessarily true. 
How do you go about serving the different layers within the Latino community in Arizona?
We're focusing on Spanish speakers in Arizona. There are at least 1.3 million people in the state who primarily speak Spanish at home, and would rather consume news in Spanish. And remember, in Arizona, there are a lot of first and second generation families, but also a lot of immigrants crossing the border, legally or not. And they're staying in Arizona at least for a little bit and they're adapting to a new life in Arizona and they need their news and information in Spanish. 
We also admit that there are so many other Latinos that don't speak Spanish, and they're still Latinos. They like reggaeton. They love tacos. They have these cultural connections with their heritage, but they don't speak Spanish maybe because their parents didn't want them to speak Spanish because of the racial profiling and discrimination that we still have in Arizona. So we know that they're here, but we're trying to focus basically on the people who speak Spanish because they're the most vulnerable because there aren't many resources in that language. 
The larger media world might categorize you as journalism, but maybe something more like civic information, or even something else. How do you define what you're doing? 
I was just at a reunion of a fellowship that I was part of, and someone asked me, what do you do? And I said, I do news on WhatsApp! And the response was, that's not journalism. I said, let me show you. I listen to my community first, which is the heart of communication and information. I have two-way communication, which the majority of legacy media doesn't have. At Conecta, we listen, we have the trust of the community, we have all the great leads to start working on stories. I'm not the journalist on Facebook saying, "do you know someone that does that, that and that?" Because I need them for an interview. That's extractive in my opinion. If I have a story in mind, I already know who I can talk to, because I've built a community that I'm having constant conversations with.
We have so many areas of opportunity to grow and learn. I want to do more in-depth reporting, there's none of that in Spanish in Arizona. I want to create more collaborations! We can partner up and we can join forces with other community entities and media outlets and we can share resources. What we're doing is a new kind of journalism that is going back to the basics of listening first, and creating later, and then making our content accessible to the community instead of making all the people come to you. That's the very old way. And that's something that so many legacy news leaders don't want to talk about because they're not ready to commit to listening to the community and being held accountable. That's something that's at the center of Cafecito, one on one accountability, because if I mess something up, they let me know! 
There's a lot of high level conversations going on in the United States around news deserts, which is a murky term with lots of potential definitions. There's also talk from some around how media legacy has to die in order for something better to emerge, and conversations around only media that can scale nationally is worth investing in, etc. etc. Based on your work, which, if any, of those conversations is interesting or useful to you? 
I've been showing up to all the conferences lately, and giving out Conecta Arizona Cafecito mugs, because I feel like I have to force people to see us. For so long people talked about my work at conferences, without inviting me to come and represent my own work. There's been so many times that big funders or big researchers or media leaders have appeared at gatherings and said, "what Conecta Arizona is doing on WhatsApp is amazing!" But they weren't inviting me to the table, to let me represent myself, to fund me, and that's so tiring. 
As for legacy media, they're not going to disappear, and I don't want them to disappear. Whenever a media outlet closes, merges or disappears, our democracy is more in danger. We want them around, but outlets like Conecta Arizona also want more equal partnerships with them. They need the voice of the community. They need access to the community we've built, but they need to know that we also need them to share their resources too. 
For so many years Spanish language media has gotten a tiny slice of the cake or the leftovers just because legacy media didn't know how to collaborate and partner in an equitable way. They know they need to reach Spanish speakers, but they haven't been willing to put in the effort to do that responsibly, by understanding what the community's needs are first. Listening is not just making a listening session or a meeting with a community group once a year.. Listening takes time, takes sitting down and meeting your community where they are; not parachuting into our communities. 
At the end of the day my goal is to motivate my community to want sourced news. I want them to feel like community news is their favorite dish and they're craving it. I'm trying to get them to crave Cafecito every afternoon, and plan their day around it so they can be part of the conversation. And I think we have been very successful at that.