Editor's note: 
In 2021 we published an Information Ecosystem Assessment documenting the news and information needs of California's Inland Empire (IE), a region with more than 4 million residents, the majority of them Latinx.  This report was the result of 18 months worth of listening to the community and has led to our now three-year long effort to build civic media opportunities and amplify IE voices.  
Our original assessment showed a local demand for coverage highlighting environmental and public health topics. We also learned that people in the IE wanted more local voices involved in contextualizing these issues. 
With support from the Ford Foundation, and in partnership with NPRs California newsroom and local NPR affiliate KVCR, we launched a community-driven editorial project called, "Unfiltered IE," with the expressed goals of having local media makers pitch us stories that likely have gone untold, or haven't been told from a local perspective. 
To do this work we needed to hire a community editor who could implement a process that didn't have a precedent. Someone who could not only guide nine local media makers, many of them with limited professional experiences, journalistically, but a talent coach, a sounding board, and someone with a sympathetic ear and deep understanding of what it's like to be an aspiring media maker in the Inland Empire. 
Thankfully IE native Yvette Vargas answered the LPC call, and we'll cede this space to her now to share what it's been like to be our first ever community editor. – Jesse Hardman
Essay: A young journalist's reflections on finding a job, her voice, and bringing her community along with her
by Yvette Vargas 
Depending on who you ask, my town, Fontana, is known for many things: a former agricultural industry, the birthplace of the Kaiser Steel Mill and Hell's Angels, aggressive winds, and a once "rough town" with an "unsavory reputation in the eyes of San Bernardino County." I tend to  gravitate to Fontana native and writer Mike Davis's words in City of Quartz when he describes our hometown as "the product of an extraordinary, deeply emblematic local history [… as a ] junkyard and [a] utopia for successive tropes of a changing California dream" (375). He's talking about the Inland Empire's population of predominantly Latino immigrants and Black families, many of whom now toil in logistics warehouses, people responsible for your products arriving promptly at your local shopping markets or your doorstep. He's talking about my parents who started a trucking company after moving to Fontana from a one bedroom apartment in Baldwin Park, California. My favorite memories as a kid were playing catch with a baseball in the loading docks or on the windy days, we would fly a kite after business hours behind the warehouse.
Davis was also talking about me. My parents wanted me to have a bigger "California dream," and for me that became film and media. I remember walking out of my toddler bed and heading to the living room where my Dad was watching the movie Back to the Future, the iconic scene of Doc and Marty McFly testing the Delorean at the Twin Pine mall.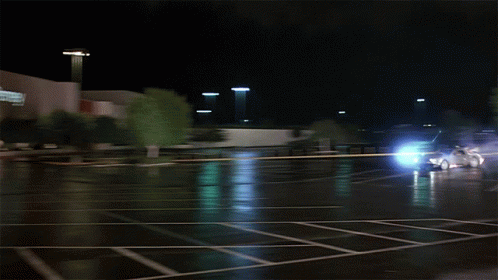 A bond started between me and my dad that night around pop culture and movies. After migrating from Mexico when he was 10, he began to tune in to the sights and sounds of what was happening in the US. He got hooked on Blondie's iconic song "The Tide is High," and he and his cousins started sneaking into movie theaters. When I was old enough, he started passing his love of art, media and narrative on to me, and it became my dream.  
My journey to actually getting my first work in media, the LPC community editor job, is a bumpy one. I am part of the generation that was told STEM education is more important than liberal arts education (and in many ways it is still being told). The idea was this: if you come from a low income background, STEM will get you out of that situation. I was told by many teachers that I was "too smart" to focus on media arts and stick to STEM. I used my STEM pedigree and good grades to get into UC Irvine, but then reverted to my dream, and studied film and media studies and comparative literature.  
As graduation neared I was excited to test the waters and find work in media. 2020 was going to be my year, and then, not only was graduation canceled, but it felt like my future was canceled too thanks to the pandemic. Trying to hang on to hope, I went back home, finish my last quarter at UCI virtually, and started applying for media work. For nearly a year and a half I was told by media companies that I had too much experience for internships, and not nearly enough experience for full-time work. Even retail jobs like Target and restaurants told me I was overqualified. The path for a young aspiring media maker, me, from a region like the IE, to get some real experience in media felt impossible. 
Despite my frustration, I was seeing some interesting signs of life and opportunity in the IE. Local folks with media skills were creating their own startups. One of my favorite sites, The Frontline Observer, posted an Instagram story highlighting a community editor position with something called the Listening Post Collective. I thought, "Who is this? And I cannot believe a position like this exists in the IE?!?"' Alas, reading the job description, I was discouraged: 5-6 years of job experience required. The haunting remarks of previous hiring managers lingering in mind. Being numbed with little to no faith, I submitted an application expecting that I would get an immediate rejection or ghosted. 
When I finally got the call from LPC about the community editor position, I was in tears: happy that I finally got a job that reflected what I wanted to be involved with, media that represents my experience and my region. When the LPC team handed me my assignment to produce media projects revolving around environmental health in the Inland Empire, I knew I was definitely ready to rise to occasion and to prove myself. I may not have the years of experience, but what I lacked, I made up for in knowing this topic through my lived experiences and knowing my community. 
My first task was finding nine or ten local media makers who had stories they wanted to tell about environmental and community health in the IE. I knew that our applicant pool was not going to be traditional: independent media makers, self-taught media makers, academics, immigrants, full-timers, etc. All of them came from a broad range of experiences and backgrounds, and most were still looking for a break, some experience, and to get paid something for their creative talents. Approaching this through a traditional media process like show me your resume or show me your clips, would have been a disaster. Instead, I said, "show me your big idea," and "what's a story you are uniquely able to tell about where you're from."
We got more than 20 pitches and accepted about half. Projects ranged from traditional digital and print stories about water access in the Coachella Valley, to a video about inequity in government decision making around where logistics warehouses go, to a web archive documenting a housing development and its impact on the local environment. We even had an academic create a multi-platform story linking pre-existing respiratory issues to higher rates of Covid-19 among locals who work in logistics jobs. 
Turning these great ideas into actual stories was full of challenges: closing knowledge gaps around journalism and media, scheduling meetings after work hours (most applicants had other day jobs to make ends meet), educating people on the editing process, and using platforms that people didn't have a ton of experience in to name a few. In the end, grantees created moving narratives, honored their vision and authenticity, learned about data and where to find it, and generally picked up journalistic principles and applied them to their stories.   
The idea of story grants in the IE is unheard of. As an added layer, getting the opportunity and being paid for it – unimaginable! I was shocked to learn how much it meant to one of the grantees who actually had a lot of journalism experience, that the grant amount we gave him exceeded anything he'd ever gotten before for his work. 
As our project wraps up, I am motivated to continue being an advocate for investing in people's talents, especially those who are least likely to get opportunities or have been told that they don't deserve them. I'm also reminded of how I felt before getting this job opportunity: hopeless. Now, with this experience, I feel like all of these challenges are coming together to make me a leader. Growing up in the Inland Empire challenges one's perceptions of success, we're often left wondering if it really is "a junkyard of dreams." Despite the challenges, I am starting to embrace the idea of taking scraps and turning them into fine metal.
Subscribe to our newsletter, keep an eye on our website, or visit our IE specific IG page to get updates on our Unfiltered IE project and other amazing LPC work.