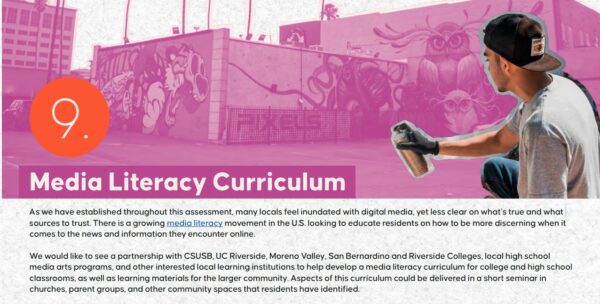 In 2021 when we completed our assessment of the information ecosystem in California's Inland Empire, we identified nine community recommendations. The last one addressed the fact that many locals felt inundated with news and info, yet unclear on what's true and what sources to trust. As a response the LPCs Quinn Mays launched our first ever Media Literacy workshop series this past May. More than 30 community members signed up to spend their Wednesday evenings learning the basics of journalism, how to contribute to local media, how to navigate mis and disinformation, and how civic power and media can go together. 
LPC Partner Anthony Victoria co-taught the five workshops and shared a writeup of what he learned in the process. Here's Anthony: 
Around a decade ago, my journey into the world of news began when I interned for a local sports editor and helped create a journalism club at San Bernardino Valley College, where I was enrolled at the time. Through this valuable experience, I learned about the intricacies of AP style writing — the writing format used for news reporting — and acquired the principles to navigate this demanding, but essential work.
But there was something I realized I didn't quite understand at the time — how media and news impacts a community's access to and reception of important information. I began to question what kind of news and information is deemed important, and the different agendas and perspectives shared by local news outlets and legacy media. 
Years later, I am still learning about the importance of media literacy in helping encourage civic engagement and community involvement. The difference is now I actively contribute to creating  an information and news ecosystem within the Inland Empire, where I strive to educate and inspire others to get involved in civic journalism. 
Through media literacy, which involves the ability to access, analyze, evaluate, create, and act through the use of all forms of media, we can foster habits of inquiry and critical thinking to effectively communicate and understand the messages we encounter. Right now, there is a nationwide desire from communities for increased media resources. According to a Gallup/Knight Foundation poll in 2020, 85% of people surveyed across the US believe journalism is critical to providing people information and holding people in power accountable. This same survey found that people who follow local news are more likely to participate in local elections. 
I strongly believe that as the deliverers and receivers of public information, local journalists share collective responsibility to ensure we create equitable and sustainable news structures that uphold the values of a thriving community and democracy. 
Thanks to Listening Post Collective, I had the chance in May to conduct two workshops that focused on the essentials of journalism and the role our field plays in promoting civic change within our communities. I specifically discussed how residents can employ various forms of journalism such as news reporting, feature writing, opinion writing, and multimedia reporting to address issues they believe are important to audiences in their community. 
Additionally, I emphasized the crucial function of the newsroom — highlighting the significance of reporters, news editors, photographers and videographers working together under a structured environment to discern facts, truth, and relevance for their audiences. For me personally, it was a valuable experience to learn from my workshop co-teacher, Moreno Valley College journalism professor Edward Rice, about the risks of misinformation and how we as residents are able to use media literacy to thwart off any threats. 
I also learned a lot from the community members who showed up every Wednesday night to share their voices and learn. Residents like Sofia Figueroa, an independent videographer and media maker who runs Come and See Media from her home office in San Bernardino, defines media literacy as equipping yourself with the tools necessary to digest the media you are consuming.
"If you are not creating it, you're consuming it," she said. "For some people, it's half their day that they are looking at the media due to their phones. Media literacy allows you to understand the processes of what is being presented to you." 
She also shared her appreciation in learning about the importance of the newsroom: "I personally didn't know the difference between an editor, a fact checker, the different tiers of it. It helps me wrap my head around how these stories are formed and the processes they go through." 
Josue Muñoz, a mindful media educator and transmedia storyteller, said using media literacy allows people to get a clearer picture of what the issues are in their community and eradicate dominant narratives often played on large media networks and in legacy newspapers. 
"Media literacy is a foundational skill set that helps us navigate the media landscape with a strong sense of what's real and what's not. It plays a crucial part in getting our families, our neighborhoods back on the same page." 
Fostering media literacy within the Inland Empire is of paramount importance. It's not just about giving people the skills to critically navigate the media landscape and the information they consume, we also have to empower our communities to discern what is true and false, how to challenge existing dominant narratives, and actively participate in shaping the information people consume. 
Media literacy enables us to promote transparency, accountability, and help keep residents informed. By embracing this practice, our region can continue cultivating an uplifted and educated population that will continue to contribute to a healthy media ecosystem for years to come.