Social media has become a critical part of an information ecosystem for communities worldwide, making it essential for media makers and information sharers to utilize social media platforms to build healthy channels for accurate, community-based information.  In line with the Listening Post Collective's values of meeting people where they're at and creating equitable spaces for people to get and share information, we wanted to share examples from our work, and outline ways to make social media a healthy and effective news and information space.
Ask Inclusive Questions. The Listening Post Collective and Internews have been creating two-way conversations with communities by planting questions in communities and encouraging community members to share their experiences with issues ranging from public health, education, jobs, housing, safety, culture.
In fact, our very first Listening Post Project involved physically planting questions around the city of New Orleans on signs. We ask communities questions we know anyone can answer with an anecdote that feels authentic to their experiences, even if they choose not to. The heart of a great question lies in its ability to turn complex topics into accessible ideas that speak to real issues happening in a community member's day-to-day.
Instagram stories provide a similar engagement dynamic with story polls and questions, creating a two-way conversations, building relationships, and engaging people outside of your community who might come across your question.
Share Back What You Learn. If you get a response to a story or a question, follow up and see if that person is willing for you to re-share what they wrote. Consider the feedback in terms of your work and the kinds of content you post. If community members express a lot of concern around climate change or a safety and security, do more digging on local stories and information that might help them feel better informed. Our LPC Partner El Timpano does a fantastic job at asking questions, listening in, and sharing back what they've learned on their Instagram account @eltimpano_bayarea.
Be Consistent and Organized. Consistency is key to building and maintaining an audience on social media. Planting a question or poll online once every week or so, giving your audience something to look forward to. Instagram is a platform that many people choose to spend their free time on, so it's important that your content remains authentic to that purpose.
Consider using a scheduling software or project management system in order to keep track of your posts! LPC uses Airtable to create an editorial calendar but there are tons of options for social media management tools, many of which have well stacked free versions like Buffer, CoSchedule and Later. You can even use Meta's Business Suite for Instagram and Facebook which is free as well.
Combine Design with Calls to Action. uSpark Valley (@usparkvalley) are the OGs of balanced and consistent with their frequent posts, colorful art style, and penchant for niche memes that work to balance out their serious investigative journalism with solutions-oriented pieces that encourage their audience to take action and interact with the community that they've built.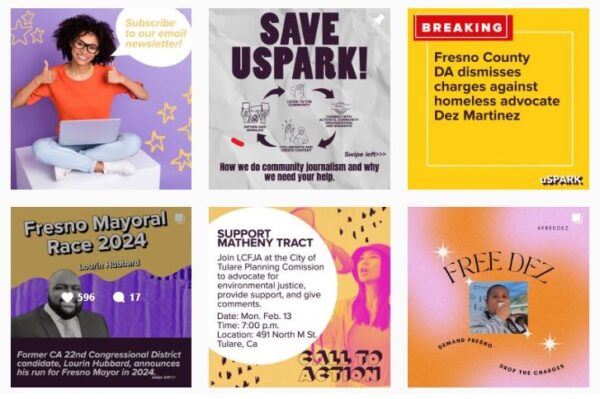 Try New Approaches. Instagram and other social media platforms value when you get creative and utilize all their tools, many of which are designed to increase the ways that you can engage with your audiences.
Infographics and traditional photo posts are helpful in highlighting your work or informing people on a topic, but Instagram reels, stories, and going live are other ways that you can interact with your community through multimedia storytelling and chatting with them through video streams and more.   Platforms like Instagram, TikTok, and Youtube offer resources to help you get the hang of using new tools.
If you don't know where to start researching, check out some of the resources that platforms provide to help you get the hang of using new tools:
Lastly. As we evolve the ways in which we build two-way conversations in the communities we collaborate with,  we are always on the lookout for new strategies. Drop us a note on IG or [email protected] and let us know what you're trying or what you're seeing on your own community's digital streets. 
See you online!
-Em Hilberer