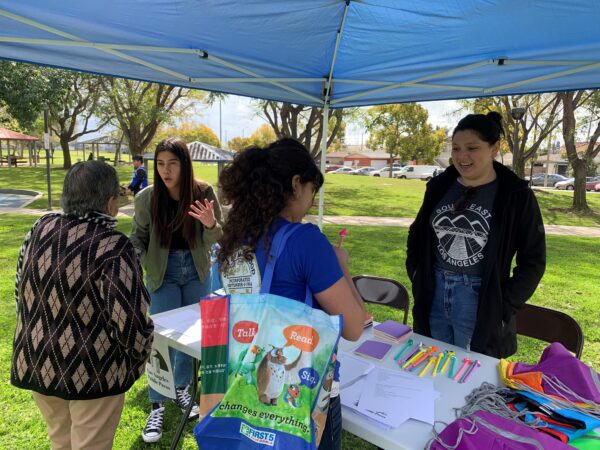 Mariah Castañeda is the Co-founder and Audience Director for the civic media outlet Los Angeles Public Press. As a new community led shop, they wanted to make sure they started building their news strategy by getting peoples input. So Mariah began tabling at local YMCAs, little league games, and night markets to see what was on residents' minds. After using the LPC Playbook to guide a community info needs assessment, she graciously shared some tips on how to build listening into a media startup. Here's our Q & A with Mariah! 
How'd you hear about the Listening Post Collective Playbook? 
When we first started LA Public Press, I wanted to make sure we were listening to LA County residents and getting feedback on what they wanted a newsroom to report on. That was when I heard about the Listening Post Collective. I feel like LPC works with a lot of newsrooms that listen to their communities and I wanted guidance from folks at LPC who've been listening to communities for years. 
You're part of a relatively new media outlet in Los Angeles, what made you all want to include community listening as part of your startup process? 
I've been a journalist for almost a decade, I've also done civic engagement and some organizing. For me, community in Los Angeles County is our audience and everything we do should benefit our audience. We can't serve our communities without asking what information they need. 
Tell us a little bit about your process for your information ecosystem assessment (IEA)?
For me, my process feels pretty natural. I connect with different community leaders. For example, when I wanted to survey in some smaller cities in SouthEast LA county, I reached out to folks I knew who worked in the environmental justice space, the community wellness space, and people I knew through a community co-op in South Gate. Talking to them, I wanted to understand what was the best way to survey their community. Did the surveys have to be printed out? Who would be down to help me distribute the survey? All of this is important to me because I'm not just the audience director at LA Public Press — I'm from here. I live here. I see myself as a part of a community in LA County, not separate. We don't want to just write about our communities: we're part of them. We want to write for them.
LA County is HUGE, where did you decide to focus your research, and why?
We decided to focus our research on South LA, South East Los Angeles, and Eastern Los Angeles. I feel like newsrooms could do a better job at reaching our communities in these regions and asking folks what kinds of information is important to them. This is personally important to me because I've always dreamt of accessible coverage that supports the informational needs of people I care about or interact with on a daily basis. LA is the largest county by population in the country – the rest of the country is getting all of this investment in news, but we also deserve more news that is actually useful and relevant to our lives. 
What are some of the strategies you've used to get folks to fill out surveys and have conversations about local community information needs?
We go where people are chilling and might have some free time to chat! We've surveyed at the local YMCA, softball games, little league games, night markets, local park events, local shows, bike riding events. 
What has stood out to you the most in your conversations with people? Has anything really surprised you?
People really care about housing and renters issues in LA, which makes sense. In conversations with community members, people consistently say that they are tired of negative news that makes them feel fear. They want to know who in their community is doing cool positive things, how they can engage with local decision making in a meaningful way, and how they can advocate for themselves and be informed. 
How do you plan to use what you learn from community members? 
The community feedback dictates what we cover at LA Public Press and how we cover it. It also dictates how we share information: Does our audience get their news from IG, tiktok, or podcasts? Do some audience members need printed versions of our articles? These are all questions we consider based on audience feedback.
What advice do you have for someone starting their community research process for their IEA? 
Approach the process with humility and have fun. You have to really want to connect with your audience in order for this process to work. People love giving their insight, so don't be shy!